No Plastics, No Tin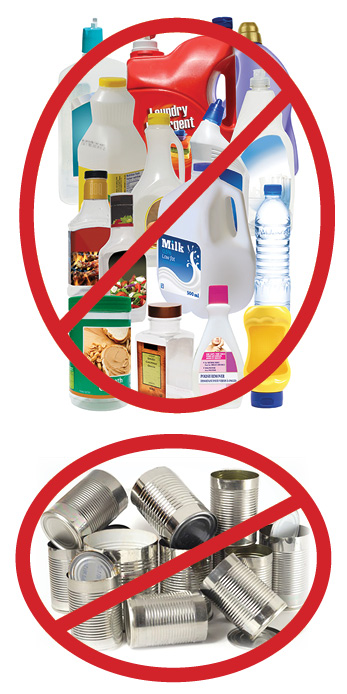 As of February 15th, 2018, recycling drop-off locations across Flathead County are no longer accepting plastic or tin/steel cans for recycling.
All staffed recycling collection sites will accept aluminum cans, mixed paper, and cardboard, separated into different containers. Pacific Steel & Recycling will accept tin/steel cans separated from aluminum. Unmanned Kalispell city sites will take mixed paper and cardboard only.
These changes are due to a worldwide upset in the global recycling market caused by China's shutdown of recycling imports. China was accepting about half of the materials collected as recycling in the U.S.
These changes affect all recycling drop-off locations and curbside services in the county, with the exception of the City of Whitefish central recycling site, which will continue to accept plastic and tin until further notice.
Read: Daily Inter Lake Article on recycling changes
Read: Flathead Beacon Article on recycling changes
---
What you can do now
While is truly a global recycling issue, we encourage everyone to take action locally to reduce the impact on our landfill. We are hopeful that a new market for plastics will be found (or created) soon — our local recycling companies are committed to finding another outlet to recycle this material.
In the meantime, here are some steps you can take to send less plastic to the Flathead County landfill:
Stop using disposable plastics. There are a ton of ways to cut down on plastic waste in your life. Scroll down for some ideas.
Choose products with recycled content. This helps create a market for our recyclables.
Know what can and can't be recycled, and only put those items in recycling bins. When plastic recycling returns, it will most likely need to be a lot cleaner than it was before. Did you know there are seven different types of plastic, but only two of them are widely recycled? Look for the triangular recycling symbol — the chasing arrows — on every piece of plastic, and only recycle the ones that have a number 1 or number 2 in the middle. The same goes for all types of recyclables: only the items listed as accepted should go in the bins. Remember — when in doubt, throw it out!
Talk about recycling with others. Many people are "wishful recyclers" and don't know that their actions are actually hurting recycling efforts. Help reduce contamination by spreading knowledge to your friends, coworkers, and family — the more people we have recycling right, the more viable our local recycling programs become.
Stockpile plastics if you can in the meantime. We're hopeful that this change is temporary and that plastic recycling will return to the Flathead. If you have an area where you can keep clean #1 and #2 plastics for a while, consider starting your own collection until the local recycling companies can take it again. Please note — the quality of plastics greatly diminish when exposed to the elements, so plastics should be kept indoors.
Become a recycling ambassador. Help WasteNot spread the word about what can and can't be recycled. We can use your help at community events, distributing our brochures, hanging posters — whatever type of outreach you prefer. Email wastenot@flatheadcitizens.org or call 406-756-8993 to learn more.
---
Reducing Disposable Plastic
Here are a few easy ideas to begin cutting plastic waste out of your life.
Replace plastic wrap and ziplock bags with beeswax wraps. You can purchase these or make your own.
Cut out bottled water! Use a reusable water bottle instead, and if you can't stand tap water, use a refillable water jug and dispenser like Culligan or Glacier Water, which can be refilled in grocery stores.
Make your own dairy products that normally come in plastic containers – most are surprisingly easy. Here's a yogurt recipe (look for yogurt starter at local health food stores), a sour cream recipe, and a cottage cheese recipe.
Bring your own reusable food storage containers to restaurants for leftovers or take-out.
Make your own household cleaning products with a just few simple ingredients.
Shop smart at the grocery store:

Look for similar products in recyclable aluminum or glass containers you can buy instead of plastic containers.
Buy items with minimal packaging and separate into snack size portions later using reusable containers.
Bring your own bags for produce and containers for bulk items – make sure to get the tare weight before filling them up.
Bring your own reusable grocery bag or choose paper over plastic which can be recycled with cardboard.

Want more ways to cut out plastic? Click here.
Back to "What to Recycle"