Major appliances include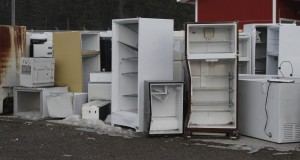 refrigerators, dishwashers, freezers, dryers, dehumidifiers, stoves/ranges, trash compactors, water heaters, air conditioners, furnaces, washing machines, heat pumps.
Appliances can be recycled at the following locations:
Flathead County Landfill (758-5910) All types; County will remove Freon for free and recycle it. Doors must be removed from fridges and freezers.
Pacific Steel & Recycling (755-7011) Only appliances without Freon. No microwaves.
---
Go back to "Everything Else"