Teachers: Sign your class up for our free classroom presentation or fieldtrip to help your students learn about the latest trends in recycling and composting!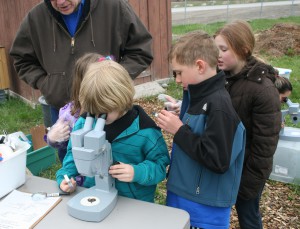 Our Recycle More! presentations demonstrate what can be recycled locally and how to sort it, and introduces your students to the concepts of Redesign and Zero-Waste as cost-saving, earth-friendly solutions for the future of how things are made.
The new WasteNot Compost Garden Fieldtrip provides hands-on experience in composting with worms, starring our Red Wiggler family. Students will get an introduction to soil science and how to create compost. This fieldtrip replaces our former landfill tours, which are no longer possible given a new policy set in 2014 by Flathead County Commissioners.
Recycle More! presentations are available on Thursdays and Fridays from February to early June. The Compost Garden Fieldtrip is available on Thursdays and Fridays from May to early June. If you would like to receive a reminder invitation in January, please call 756-8993 to be added to our list.