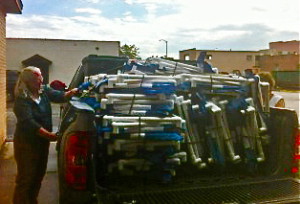 Did you know you can borrow WasteNot recycling bins for your next event? Up to 50 bins are available to make recycling easy and reduce waste at your next community gathering.
In 2013, the WasteNot program teamed up with The Flathead County Solid Waste District, Western Building Center of Kalispell and Coon Hollow Canvas of Kila to create 50 recycling bins available for community events. The bins can be reserved for public and private events to collect metal, plastic, paper, glass and cardboard.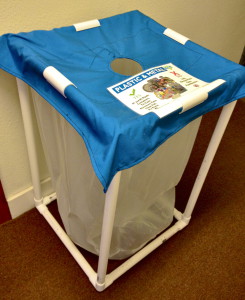 To reserve the bins, call the WasteNot Project at 756-8993. Please reserve bins at least three days in advance of the day they are to be picked up. The bins require set up and take down time, as they have to be assembled on site. There is no cost associated with renting the bins, but you will need to provide or purchase from WasteNot clear garbage bags to collect the recyclables. You are also responsible for properly disposing of the recyclables after the event.
Download a Recycle Bin Loan Agreement to reserve bins for your next event!
Food vendor guide to reduce waste
Recycling tips and planning for events
Instructions for Recycling Bin Setup
---
Flathead County Fairgrounds Bins
In 2015, the WasteNot Project received a bin grant to place 50 new recycling bins at the Flathead County Fairgrounds. The new bins debuted at the 2015 Northwest Montana Fair in partnership with Valley Recycling and the Flathead County Fairgrounds. The bins are available all year for any event taking place at the fairgrounds. Contact the fairgrounds at 758-5810 if you'd like to use these bins at your next fairgrounds event.
Download the Fairgrounds Recycling Bin Loan Program guide for your next Fairgrounds event.