Keep your trash clean by separating out all liquids and materials that are considered hazardous.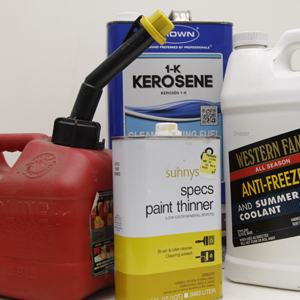 Chemicals are part of our lives. We treat illnesses, paint our houses, and even clothe ourselves with products that have been developed through chemical research. However, there are reasons to be cautious about our exposure to some chemicals.
Many household products contain the same chemicals as strictly regulated industrial wastes and pose similar environmental problems. Although the quantities of chemicals disposed of by individual households may be small, the number of households in Flathead County are many, and the amount of waste adds up when they reach the landfill.
To identify hazardous materials, look for the following caution words on product labels before you make your purchase. To help protect you, your family and the environment, choose the least hazardous product to get the job done.
Warning Labels:
Poison = Highly Toxic
Danger = Extremely Flammable, Corrosive, or Highly Toxic
Warning = Moderately Hazardous
Caution = Mild to Moderately Hazardous
Simple changes in our everyday routines can reduce our long-term exposures to low levels of potentially harmful substances-changes in how we choose the products we buy, or the ways we clean our houses and take care of the yard. These changes will not only make our homes safer, they may also save us money.
---
Go back to "Hazardous Waste Recycling"