Household Hazardous Waste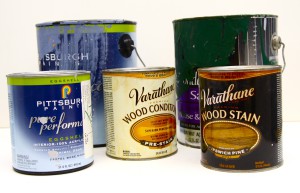 What is Hazardous Waste? Hazardous Waste is any substance that can potentially harm people, animals, or the environment through skin contact or ingestion. Common examples include oil-based paint, thinner, stains, cleaners, pesticides, herbicides, insecticides, fertilizers, turpentine, lye, and pool and spa chemicals.
Read the labels on products before you throw them away and look for products with a warning label such as flammable, caustic, danger, hazardous or poison. Visit our Know Your Toxics page to learn more about identifying household products. Wastes such as these need to be properly disposed of to protect our households and water quality.
The Flathead County Landfill provides a collection service for Household Hazardous Waste on the third Saturday of every month. This free service is by appointment only, so you don't have to wait in line. Download a registration form here to safely dispose of your household hazardous waste at the next event.
---
Business Hazardous Waste Disposal
Most businesses use at least some products that are considered hazardous waste. The Flathead County Landfill offers an annual Business Hazardous Waste Disposal event, typically in late spring each year. If your business generates or uses products with a warning label such as flammable, caustic, danger, hazardous or poison, then call the landfill at 758-5910 to learn how to participate. While this program is not free, it offers significant reductions in rates by organizing joint collection dates while allowing you to easily meet your legal disposal requirements.
Proper disposal of business HHW is required and regulated by law. Regulations concerning the management of hazardous wastes are issued by and enforced by the Montana Department of Environmental Quality (DEQ) and the U.S. Environmental Protection Agency (EPA). These regulations apply to hazardous wastes from "cradle to grave." In other words, you are responsible for the hazardous wastes you produce or use from the time they are generated until the time they are properly, legally disposed of. In addition, various local agencies (like the fire department or sewage treatment plant) may have requirements on how and where your hazardous materials are stored, used and disposed.
Learn more about Montana's Hazardous Waste Program at deq.mt.gov/hazwaste/default.mcpx. Visit www.montana.edu/wwwated/business.html for cost-saving tips and technical assistance services.
---
Go back to "Everything Else"