Your guide to what you can recycle in the Flathead Valley. You can download a copy of our How to Recycle brochure here. Please call us at 756-8993 with any questions, or for information on items not listed.

---
PAPER & CARDBOARD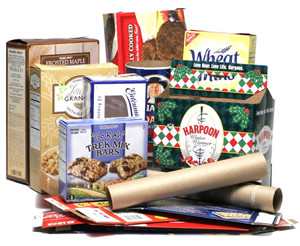 Each person in the United States uses approximately 749 pounds of paper a year. Paper makes up close to a third of what we throw away nationwide. Recycling paper makes economic and environmental sense, as it saves 60-70% of the energy used for virgin paper while making our natural resources go farther. Paper is easy to recycle because it is made from wood, and it separates back into fibers when soaked in water. Paper can be recycled seven times and thus reduces the need to harvest timber to make new paper.
Paper and Cardboard are accepted at all Drop-Off Sites and Recycling Centers in the valley.
How to Sort:
Mixed Paper
All forms of paper, including:
–  Office paper, colored and white (staples okay)
–  Magazines and catalogs
–  Newspaper, including inserts
–  Junk mail (windowed envelopes okay)
–  Phone books
–  Computer paper
Cardboard
–  Mixed Corrugated Cardboard
–  Paperboard
–  Brown Paper Bags
–  Cardboard egg cartons
–  NO waxed cardboard (like milk cartons) or non-cardboard packing materials.
Miscellaneous
–  Montana Coffee Traders, 862-7603. Will take cardboard boxes for shipping. Call for pick up.
–  See "Mailing and Packing Materials" for information on bubble wrap, styrofoam and packing peanuts.
---
PLASTICS
Only plastics #1 and #2 can be recycled in Flathead County. To identify which type of plastic you have, look for the number inside of the triangular recycling symbol on the bottom of the container. Learn more about the different types of plastics with these (actually pretty entertaining) videos by Container & Packaging Supply.
#1 and #2 Plastics are accepted at all Drop-Off Sites and Recycling Centers in the valley.
How to Sort:
#1 & #2 Plastics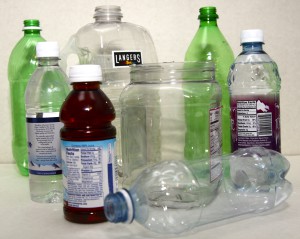 – Includes clear and colored containers, bottles, jars, and clamshell containers. Please rinse and remove all lids/caps and put lids in garbage (lids are a different type of plastic and NOT recyclable).
– If there is not a clearly marked chasing arrow recycling sign with a #1 or #2 on the container please place in trash.
Plastic Shopping Bags
– DO NOT place any plastic bags in with #1 and #2 plastic containers, as they jam the sorting equipment.
– Most grocery stores have return bins for bags by the entrance. Remember to reuse when possible!
---
METALS
Metals are infinitely recyclable without loss in strength and quality. Aluminum, tin and steel cans are accepted at all Drop-Off Sites and Recycling Centers in the valley.
How to Sort: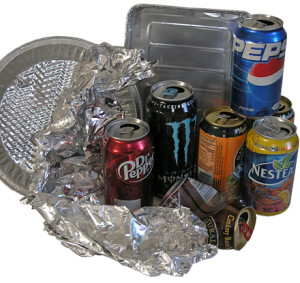 Aluminum and Tin/Steel Cans
– No need to remove labels or flatten.
– Can include clean aluminum foil.
– Mix with #1 & #2 Plastics EXCEPT keep separated at Pacific Steel & Recycling.
Other Scrap Metals
– Pacific Steel & Recycling, 755-7011. Accepts and pays for scrap iron, steel, aluminum, stainless steel, brass, copper, radiators, wire and large appliances that do not contain Freon.
– Jeff the Rovin' Recycler, 260-5262. Will buy and pick up most metals, including radiators, screen doors, stainless steel, silverware, aluminum cans and other aluminum items, catalytic converters, wire, copper, brass, lead, alloys and pipe fittings. Can provide a walk-through of your site to determine what can be recycled. Call for more information.
---
GLASS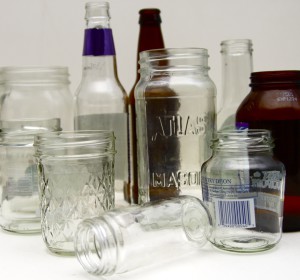 Glass is treated differently than other recyclables as it cannot be baled like other materials and is too costly to ship to nearby recycling centers. However, we now have several options for recycling glass in the Flathead Valley. Recycled glass is a virtually free building material that can be used in everything from roads to backfill to insulation. Many communities across the country are now successfully using glass crushers to create building materials.
Glass can be recycled at the following locations:
New World Recycling, 257-5899
– Fee-based ($10/32 gallon container) GLASS ONLY drop-off at 3452 Hwy 93 South, next to the Western State Cat building. Open Monday through Friday 9 am-5:30 pm, and Saturdays 10 am-2 pm. Residential use only. New World also offers fee-based curbside recycling pickup for business and residential.
Green Machines, 755-8112
– Fee-based curbside recycling pickup
Glacier National Park Lodges Site (no contact number)
– 1014 1st Ave W, Columbia Falls. Bins located behind the warehouse. Residential use only; commercial businesses please contact New World Recycling at 257-5899 to arrange curbside pickup services.
---
PHARMACEUTICALS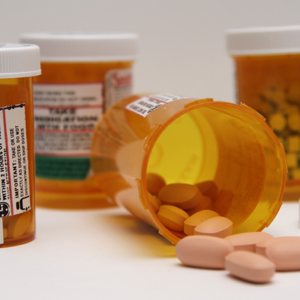 Proper disposal of unused medications can help prevent drug abuse in your neighborhood and protect the Flathead's water quality. Flushing medications adds to pollution of our waters because wastewater and septic systems are not designed to treat these chemicals. Download a copy of our Pharmaceutical Waste Brochure.
Instead of flushing or pouring down the drain, take unused medicines to county drop-off sites for safe disposal. This is a free, anonymous, public service provided by local law enforcement agencies. They are the only agencies currently legally permitted to collect unwanted medications.
Quick and easy drop boxes are located at:
Kalispell: Flathead County Justice Center Drop Box
– Accessible 24 hours a day 7 days a week
Columbia Falls: Columbia Falls Police Station Drop Box
– 8am-6pm Monday through Friday
Whitefish: Whitefish Police Station Drop Box
– 8am-6pm Monday through Friday 
If you are unable to make it to one of these collection points please follow these steps as a last resort:
Dump medicines out of their container into a re-sealable bag
Pour enough water into the bag to let medicines dissolve
Add an absorbent such as kitty litter, coffee grounds, or sawdust and mix together
Seal bag and place in a garbage container out of reach of children and pets.
---
EVERYTHING ELSE
Did you know that the following items are also recyclable in the Flathead Valley?
Fluorescent Bulbs and Thermostats