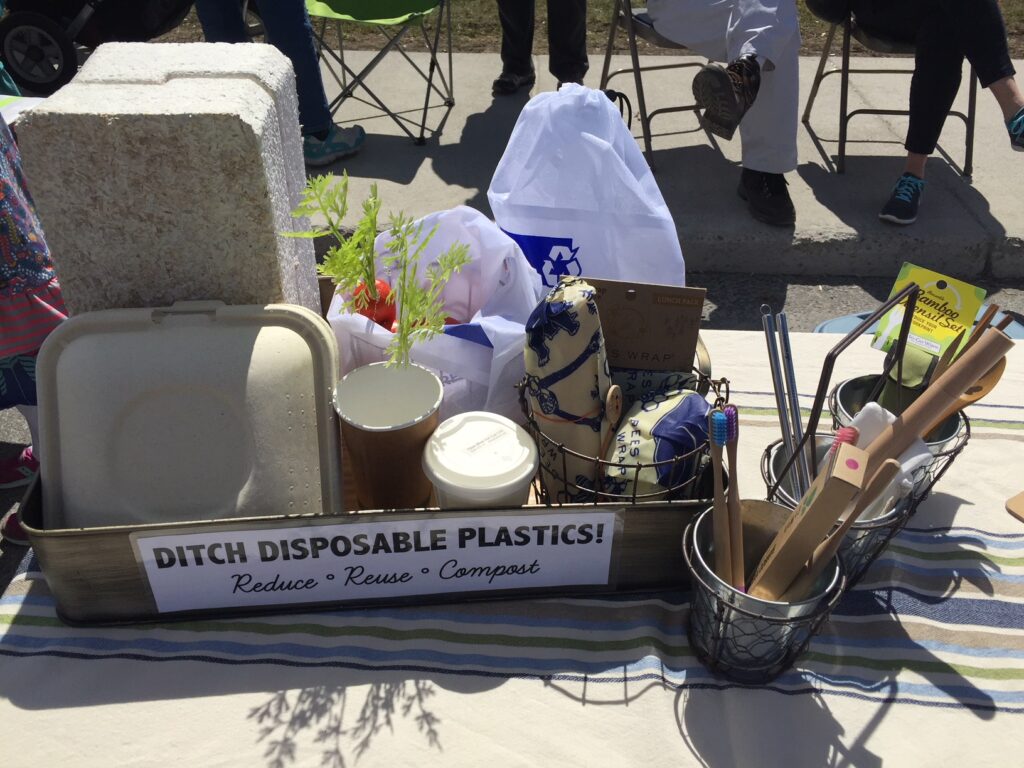 "Reduce" is perhaps the most important and the most often forgotten of the 3Rs (Reduce, Reuse, Recycle). Reduce is the most efficient, inexpensive, and environmentally sound way of managing our waste. When you avoid consuming something in the first place, you don't have to worry about disposing or recycling it later.
Reducing the amount and type of materials you use in everyday life makes a big difference to the volume of waste that goes in our landfill. Consider the amount of energy used in creating just the packaging materials for so many of our products!
Below are some ideas and suggestions for alternatives to reduce the amount of waste you produce:
Stop buying bottled water. Americans go through around 50 billion plastic water bottles each year.
Bring Your Own Bags. Keep tote bags in your car for impromptu stops at the grocery store. Use reusable produce bags for fruits and veggies.


Buy Bulk. Most grocery stores have bulk sections that can eliminate packaging waste from a wide variety of items. Reuse glass jars, plastic containers, or cloth bags for the container. (Get the tare weight first from a store associate and write it on the container so you always have it.) Click here for a list of local grocery stores and the bulk items they offer (you'll need to create a free account to view.)


Choose Less Packaging. So much of our waste is affected by decisions we make at the store. While individually wrapped items are convenient, they also create a lot of waste. Buy larger containers and divvy up individual portions in reusable containers for lunches. Choose produce that isn't packaged in plastic. Choose packaging that you know can be recycled instead of thrown away.


Bring Your Own Takeout Container. Bring a Tupperware with you when going out to eat to bring home leftovers without waste.


Refuse Single-use. Ask for your drink without a straw, or bring your own reusable one. Use beeswax cloth wraps instead of plastic wrap and baggies. Use silverware instead of plasticware. Look at the items you use every day and where you can replace them with reusables.
---
More Ideas: